KICKER proudly offers its products through a carefully selected Authorized Dealer network. If you do not see the official KICKER Authorized Dealer seal, then it is not an Authorized Dealer. Only products purchased from a KICKER Authorized Dealer qualify for the manufacturer's warranty and are backed by years of outstanding customer service through our Authorized Dealer network.
WARNING: Since KICKER cannot guarantee the authenticity of products UNAUTHORIZED DEALERS are selling, you have legal rights granted to you by our current product warranty. To be certain of your warranty coverage, please check the warranty statement located in the back of your Owner's Manual. For your convenience, Owner's Manuals can be downloaded from our website; we strongly suggest you review the Warranty statement prior to making a purchase from an UNAUTHORIZED DEALER.
Always Buy from an Authorized KICKER Dealer
Why should I buy from an Authorized Dealer?
Authorized KICKER Retailers strive to deliver an excellent customer experience that helps you make the right choices. Authorized Retailers deliver the quality products and services you expect and deserve when you buy a KICKER product. We encourage you to look for the KICKER Authorized Dealer Logo wherever you choose to shop.
Only Authorized Dealers have access to KICKER product managers and specialized customer service representatives and receive continuous product training to ensure you get the most up-to-date product information. In addition, KICKER often offers special product promotions available only through Authorized Dealers.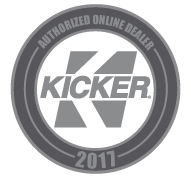 Look for the Authorized KICKER Dealer Logo
You can count on KICKER Authorized Dealers for:
KICKER Authorized Dealers are required to take steps to insure the integrity of your KICKER purchase, unlike some unauthorized dealers who sell products with altered or obliterated serial numbers; products with tampered serial numbers void the KICKER Products Warranty. We also receive reports of unauthorized dealers selling used products as new.
We have not audited unauthorized e-tailers or other unauthorized dealers to determine if they meet the high customer service standards our Authorized Dealers are required to meet. Since we generally have no relationship with unauthorized e-tailers, we may be unable to help you if you experience any diffculty with their service. For these reasons we strongly recommend you purchase KICKER products only from an Authorized KICKER Dealer.
Current KICKER Authorized Online Dealers