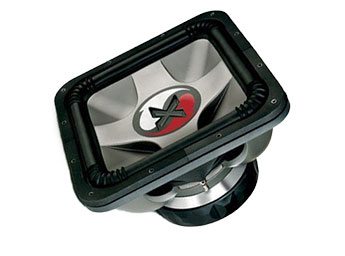 SoloX History
There's a reason we compete. The ceaseless drive to learn, improve and ultimately - to win - is indelibly woven into KICKER's DNA.
In the early 2000's, car audio competition was thriving, and KICKER was dominating the lanes - winning world championships both in sound pressure and sound quality. Leading the charge was Alma Gates, her legendary "Beast" Bronco, and the KICKER Competition Group. We watched the KICKER Competition Group collect a seemingly endless streak of awards, earning trophy after trophy – championship after championship – all while using high-power-handling, high-efficiency SoloX Subwoofers.
As time went by, we labored to create another generation of high-SPL subwoofer. We experimented with ideas, threw them away and made something better. We scoured social media discussion groups, looking for every burp, demo and hair trick we could find. We asked elite competitors their opinions (the first time in our history we did so before production was underway), and then, during our streaming hit show "KICKER UnMASKED! Live," we unveiled it online to record-breaking crowds.
We invite you to experience the legend for yourself, for one reason: we made something better.